'New way' to repair heart damage 心脏修复"新方法"
(单词翻译:双击或拖选)

Scientists say they have found a new way to mend damage to the heart.
科学家称他们已经发现了心脏修复的一种新方法。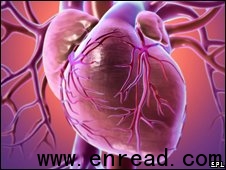 It was thought adult heart muscle cells could not divide

When cells turn into fully-formed adult heart muscle they stop dividing, and cannot replace tissue damaged by disease or deformity(畸形).
But a US team have found a way to coax1(诱骗) the cells to start dividing again, raising hopes they could be used to regenerate2 healthy tissue.
The study, carried out on mice and rats by Children's Hospital Boston, appears in the journal Cell.
The researchers say their work could provide an alternative to stem cell therapy, which is still largely untested, and carries a potential risk of side effects.
In theory, it could be used to treat heart attack patients, those with heart failure and children with congenital(天生的,先天的) heart defects.
The key ingredient is a growth factor known as neuregulin1 (NRG1).
The Boston team envisages3(面对,正视) patients going to a clinic for daily infusions4(灌输,激励) of NRG1 over a period of weeks.
However, researcher Dr Bernhard Kühn said more work to established the safety of the therapy before it could be tested in humans.
Changes after birth
It has long been thought that the heart was incapable5 of repairing itself.
Heart muscle cells (cardiomyocytes) proliferate6(增殖) during prenatal development, but were thought to lose that ability shortly after birth.
However, recent research has indicated that the adult cells do have some ability to replace themselves at a low level.
The latest study provides firm evidence that this is true - and that NRG1 can ramp7 up the process significantly.
The Boston team tested the ability of various molecules8 to spur(刺激,激励) cell division in cultured cardiomyocytes, including several factors known to drive proliferation of the cells during prenatal(产前的) development.
NRG1 produced the most significant effect, and it was repeated when the factor was injected into adult mice.
When administered to animals who had suffered a heart attack, it promoted regeneration of heart muscle, and improved the overall function of the organ.
The researchers said it was not clear if NRG1 is directly responsible for the natural repair process - but their findings show it can clearly enhance it.
Writing in the journal, they said: "We have identified the major elements of a new approach to promote myocardial regeneration.
"Many efforts and important advances have been made toward the goal of developing stem-cell based strategies to regenerate damaged tissues in the heart as well as in other organs.
"The work presented here suggests that stimulating9 differentiated10(分化型) cardiomyocytes to proliferate may be a viable11 alternative."
The next stage will be to test the therapy in pigs, which have more in common with humans than rodents12(啮齿类) do.
Professor Jeremy Pearson, associate medical director of the British Heart Foundation, said: "This fascinating study shows, remarkably13, that a significant fraction(分数,破片) of adult heart cells in mice can be made to replicate14 and help to repair damaged hearts.
"If the same mechanisms15 identified by the researchers can be shown to work in the human heart, it opens up real possibilities for new and more efficient ways to treat people with heart disease."