Telescopes ready for rocket ride 欧盟天文望远镜准备上天
(单词翻译:双击或拖选)

One of the most important launches in European spaceflight history is about to take place in French Guiana.
法国圭亚那将会发生欧洲航天历史上重要的一次发射。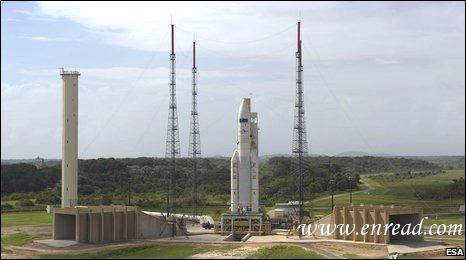 It will be the most valuable science launch in European spaceflight history
Two telescopes with a combined value of 1.9bn euros (£1.7bn) are being sent into orbit on a single Ariane rocket(阿丽亚娜火箭).
The Herschel and Planck observatories1 will probe the sky to glean2 new information about the origins and evolution of the cosmos3.
The ride into space from the Kourou spaceport should last just under half an hour.
The astronomical4 satellites will then separate from the rocket more than 11,000km above the Earth and take separate paths out to observing positions some 1.5 million km from the planet on its "night-side".
"This is the result of many years' hard work by thousands of scientists and engineers across Europe," said European Space Agency (Esa) director-general Jean-Jacques Dordain.
"The technology onboard these satellites is unique, and the science these satellites will do is fantastic," he told BBC News on the eve of the launch.
The scheduled lift-off is timed for 1312 GMT (1412 BST; 1512 CEST).
Herschel is the largest telescope anyone has yet tried to put in space.
Its 3.5m-diameter primary mirror is one-and-a-half-times the size of Hubble's main reflector.
Such size would ordinarily incur5(招致,蒙受) a huge weight penalty but the Herschel mirror has been kept to just 350kg by constructing it from silicon6 carbide(碳化硅), a novel ceramic7 material(陶瓷材料).
The telescope will be sensitive to far-infrared8 and sub-millimetre (radio) wavelengths9 of light, allowing it to peer through clouds of dust and gas to see stars at the moment they are born.
This infrared capability10 will also enable Herschel to look deep into space, to gaze at those galaxies11 that thrived when the Universe was roughly a half to a fifth of its present age. It is a period in cosmic history when it is thought star formation was at its most prolific12(多产的).
"Herschel is going to help us understand much, much better how stars form right now and how they have been forming throughout billions of years of cosmic history; and therefore, indirectly13, it's going to help us understand how our own Sun and our own Solar System formed," Dr Göran Pilbratt, Esa's Herschel project scientist, told BBC News.
The spacecraft carries an enormous flask14 of "superfluid" helium(氦) to chill its instruments and detectors15 close to minus 273C (or "absolute zero", the point beyond which no further cooling is possible).
"We are observing at long wavelengths where all warm objects glow, so we need to cool the telescope and the instruments as much as possible, otherwise the weak signals we are trying to detect from the sky will be totally swamped(淹没) by radiation emitted by the telescope itself," said Professor Matt Griffin from Herschel's Spire16 instrument team.