Large thighs 'may protect heart' 研究:粗大腿"可能保护心脏
(单词翻译:双击或拖选)

Men and women with thighs2 over 60cm (23.6in) in circumference3 have a lower risk of heart disease and early death, a study of 3,000 people suggests.
一项基于3000人的调查显示,大腿全围超过60cm的男人和女人患心脏病和早逝的风险小一些。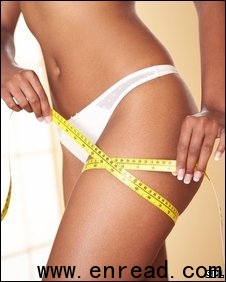 The crucial measurement is taken just below the bottom

The relationship remains5 even when body fat, smoking and blood cholesterol6(胆固醇) are taken into account, a Danish team says.
Those with narrow thighs may not have enough muscle mass to deal with insulin(胰岛素) properly, raising the risk of diabetes7(糖尿病) and, in turn, heart disease, they say.
Experts cautioned that the research needed corroborating8(确证).
Some said it was too early to change current advice on eating and exercise for heart health, but the researchers said thigh1(大腿) size could be used as a marker for at-risk patients.
The study, published in the British Medical Journal, followed men and women in Denmark for more than 10 years.
They were measured for height, weight and thigh, hip4 and waist circumference and their overall percentage of body fat was calculated.
The thigh measurement was taken just below the gluteal fold(臀沟), which is the crease9(折痕) caused by your buttocks(臀部).
Researchers also looked at the activity levels of the participants, whether they smoked, their blood pressure and cholesterol levels.
They then monitored incidence of heart disease over 10 years and death rates over 12-and-a-half years.
'Crude measure'
During this time, 257 men and 155 women died, 263 men and 140 women developed cardiovascular disease(心血管病) and 103 men and 34 women suffered from heart disease.
The team at the Copenhagen University Hospital found that those with the smallest thighs - below 55cm - had twice the risk of early death or serious health problems.
Professor Berit Heitmann, who led the research, said: "The increased risk was independent of abdominal10(腹部的) and general obesity11(肥胖,肥大) and lifestyle and cardiovascular risk factors such as blood pressure.
"Additionally we found that the risk was more highly related to thigh circumference than to waist circumference.
"It's a very simple, very crude(粗鲁的,简陋的) measure but it seems to have an individual effect. And it may be a way for doctors to assess(估定,评定) risk.
"The nice thing is that if you have a small thigh you can do something about it through exercise."
Previous studies have suggested that a waist circumference of over 35in (88.9cm) for a woman and 40in (101.6cm) for a man indicated a high risk of developing diabetes and heart disease.
Professor Heitmann's team says the risk of narrow thighs could be associated with too little muscle mass.
They say this can lead to the body not responding to insulin properly, increasing the risk of type 2 diabetes and, in the long-run, heart disease.
Too little fat can also lead to adverse12(不利的) changes in the way the body breaks down food.
'Great news'
British Heart Foundation senior cardiac(心脏的) nurse Judy O'Sullivan said: "There is insufficient13 evidence to confirm that a low thigh circumference affects a person's risk of developing cardiovascular disease.
"However, low muscle mass is associated with low levels of physical activity which is an established risk factor for developing heart disease."
Tam Fry, of the National Obesity Forum14, agreed that the research needed further corroboration15(证实,支持), saying: "This is a very interesting and slightly counter-intuitive(直觉的) piece of work but it has to be respected because of the numbers looked at and the duration of the research.
"This must be great news for people with larger thighs. What I find fascinating is that researchers are now going back to the drawing board and looking for every possible way of mitigating16(镇静,缓和) obesity."