英国大选临近 领导人做最终竞选致辞
(单词翻译:双击或拖选)

Gordon Brown, David Cameron and Nick Clegg have made their final appeal to the public before voting in Thursday's general election gets under way.
英国大选将于当地时间周四进行,戈登·布朗、大卫·喀麦隆和尼克·克莱格分别向公众做最终竞选致辞。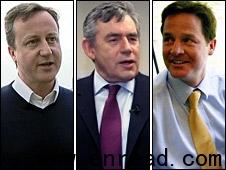 Gordon Brown, David Cameron and Nick Clegg
The prime minister said only Labour could take the country "forwards" and would "always be on your side".
Conservative leader Mr Cameron said a victory for his party would bring "hope, optimism and change".
Urging voters to trust their "better instincts(直觉,本能) ", Lib Dem leader Nick Clegg said this election is "our chance".
Polling stations open on Thursday at 0700 BST and will close at 2200 BST.
In other election developments on Wednesday, the last day of campaigning:
In Scotland, the SNP, Lib Dems, Labour and Tories seek to rally(集合,团结) supporters and win over voters
In Wales Plaid Cymru leader Ieuan Wyn Jones, Welsh Lib Dem leader Kirsty Williams, Welsh Secretary Peter Hain and Tory leader David Cameron are all visiting target seats
Gordon Brown tells Labour voters thinking of voting tactically(战术性地) it is important his party gets as many votes as possible
David Cameron says he is "going all out(鼓足干劲,全力以赴) " to win, after an all-night campaign
Nick Clegg says only his party can deliver "real change" and it is "time to make a choice"
Other parties seeking votes and hoping to make a breakthrough on the last day of campaigning are the Green Party, UKIP and the BNP.
Concluding a whirlwind(旋风般的) final day of electioneering, the three leaders of the largest Westminster parties all acknowledged that thousands of voters have yet to make up their mind.
'Come home'
Mr Brown told supporters in Dumfries he was the right man to lead Britain through "dangerous and uncertain" economic times and Labour would always have the interests of the British people at heart.
"Give us your support and trust and we will be there every day to support you. We will be steadfast1(坚定的,不变的) , strong and always on your side," he said.
"Whatever your doubts, whatever your disappointments, if you want to secure a recovery that is fair to all and public services that serve all... I ask you to come home to Labour."
He said Labour's achievements over the past 13 years contrasted with a Conservative Party that had not changed and "still believed in protecting privilege(特权,优待) ".
"I say let's not go backwards2 with the Conservative Party, let's go forward with Labour."
At his final campaign rally in Bristol, Mr Cameron urged supporters to "raise their sights" in the last hours before polling day, saying he was fighting to win "with everything we have got".
点击

收听单词发音
1

steadfast
adj.固定的,不变的,不动摇的;忠实的;坚贞不移的

参考例句:

Her steadfast belief never left her for one moment.她坚定的信仰从未动摇过。
He succeeded in his studies by dint of steadfast application.由于坚持不懈的努力他获得了学业上的成功。
2

backwards
adv.往回地,向原处,倒,相反,前后倒置地

参考例句:

He turned on the light and began to pace backwards and forwards.他打开电灯并开始走来走去。
All the girls fell over backwards to get the party ready.姑娘们迫不及待地为聚会做准备。