Missing ship 'found' off Africa 失踪船只西非海岸被发现
(单词翻译:双击或拖选)

A missing merchant ship with 15 Russian crew members on board has been spotted1 off the coast of West Africa, unconfirmed reports say.
未经证实的报道称,一艘消失的载有15名俄国船员的商船在西非海域被发现。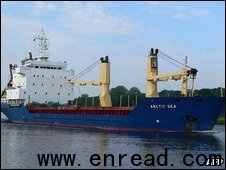 The Arctic Sea went missing in mysterious circumstances last month

The Arctic Sea had last been sighted in the Bay of Biscay on 30 July.
Reports citing coastguards suggested it had been seen some 400 nautical2 miles north of the Cape3 Verde islands.
However amid continuing uncertainty4, the Russian envoy5(特使) in Cape Verde said he had contacted the military there and the sighting had not been confirmed.
Russian navy ships have been searching for the 4,000-tonne Maltese-flagged vessel6, which had been carrying timber(木材,木料).
Observers have suggested the ship was hijacked7, possibly because of a Russian commercial dispute.
Following the reported sighting, a spokesman for the French defence ministry8 told the BBC that the Arctic Sea was thought to be in international waters.
The spokesman said his information came from the Cape Verde coastguard, who said the ship was outside its jurisdiction(司法权,审判权).
However, the spokesman said there was a "high possibility" that the ship had been located. French intelligence officials also believe they have found the ship in the same area, he said.
The Russian ambassador to Cape Verde, Alexander Karpushin, told Associated Press news agency that a Russian frigate9(三帆快速战舰) was heading to the area but had no information on the Arctic Sea's location.
Russia's RIA news agency later quoted Mr Karpushin as saying that confirmation10 that the Arctic Sea had been spotted "400 nautical miles north of the island of Santo Antao... did not prove to be true".
Five Russian warships11 and other vessels12 have been searching the Atlantic for the vessel.
Attack reports
Carrying timber reportedly worth $1.8m (£1.1m), the Arctic Sea sailed from Finland and had been scheduled to dock in the Algerian port of Bejaia on 4 August.
The crew reported being boarded by up to 10 armed men as the ship sailed through the Baltic Sea on 24 July, but the intruders(侵入者,干扰者) were reported to have left the vessel on an inflatable boat(充气橡皮艇) after 12 hours.
There are also reports of the ship being attacked a second time off the Portuguese13 coast. However the ship's operators said they had no knowledge of the incident and Portugal said the ship was never in its territorial14 waters.
The last known contact with the crew was when the Arctic Sea reported to British maritime15(海上的,海事的) authorities as it passed through the Dover Strait.
On Friday, the European Union Commission spokesman Martin Selmayr said: "From information currently available it would seem that these acts, such as they have been reported, have nothing in common with 'traditional' acts of piracy16 or armed robbery(持械抢劫) at sea."
Nato was monitoring the situation due to the unusual nature and location of the attacks, but was not directly involved in the search.