中国部分家庭提供英语课换免费食宿
(单词翻译:双击或拖选)

想要到中国旅游,经济又不太宽裕的老外们注意了:中国部分家庭从上月起开始提供英语课程换免费住宿服务,只要每天能够保证至少两小时的英语交流时间,来中国旅游的老外便可以在提供该服务的中国家庭免费住宿。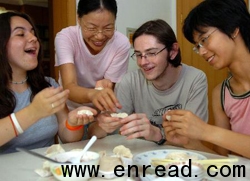 Travelers can choose to exchange their language for free accommodation, tour guiding or even Chinese cooking lessons.
Visitors seeking to see China on a budget(节省费用) would do well to brush up(擦光,复习) their English language skills to take advantage of a scheme that offers free lodging1 in Chinese homes in exchange for English tutoring.
With the cost of one hour of English tuition costing up to 500 yuan ($73.26) -- unaffordable for the vast majority of Chinese -- a not-for-profit Chinese organization called Tourboarding launched the initiative last month.
Lodgers2(房客,寄宿人) must speak at least two hours of English a day in return for their keep while their Chinese hosts can learn for free from a resident live-in English teacher.
"In the past 30 days, 5,000 Chinese families have signed up," said Ken3 Chen, 38, one of the founding members for Tourboarding.
Chen said the aim of the company, which is run online (www.tourboarding.com/), is not to make money but to provide opportunity for the millions of Chinese keen to learn English.
Tourboarding hopes to tap into foreign demand for cheap accommodation(膳宿) in China, particularly in Shanghai, as hotel prices have soared since the start of the World Expo in May.
"Travel industry hates us, people love us," is the motto on its website, which prides itself on offering travelers airport pick-up and drop off, free accommodation with a family and two meals a day.
Travelers can choose to exchange their language for free accommodation, tour guiding or even Chinese cooking lessons.
Yang Yang, 16, a female student in Shanghai advertises her home on the Tourboarding website to prospective4 travelers: "The house is next to a lake, green is good. We can offer single rooms for you to live. My parents want me to invite a woman."
Chen said Yang is just one example of a rising number of Chinese opening their homes to foreigners in the hope of improving their English.
"We accept travelers from all over the world. In the future we will copy this model to imitate in new, booming countries such as Russia, Brazil and Vietnam," said Chen.
Chen who quit his job at Nike Sports China, joined forces with Nuno Zhang, 28, an ex-Google employee to create the Tourboarding concept. The company started up in April.
He added that the website would rely on donations from travelers until volume traffic increases.
"In the future we will bring in advertising5 to make the service sustainable but we will not charge hosts at all as they are from a developing country," Chen added.
点击

收听单词发音
1

lodging
n.寄宿,住所;(大学生的)校外宿舍

参考例句:

The bill is inclusive of the food and lodging. 账单包括吃、住费用。
Where can you find lodging for the night? 你今晚在哪里借宿?
2

lodgers
n.房客,租住者( lodger的名词复数 )

参考例句:

He takes in lodgers. 他招收房客。 来自《简明英汉词典》
A good proportion of my lodgers is connected with the theaters. 住客里面有不少人是跟戏院子有往来的。 来自辞典例句
3

ken
n.视野,知识领域

参考例句:

Such things are beyond my ken.我可不懂这些事。
Abstract words are beyond the ken of children.抽象的言辞超出小孩所理解的范围.
4

prospective
adj.预期的,未来的,前瞻性的

参考例句:

The story should act as a warning to other prospective buyers.这篇报道应该对其他潜在的购买者起到警示作用。
They have all these great activities for prospective freshmen.这会举办各种各样的活动来招待未来的新人。
5

advertising
n.广告业;广告活动 a.广告的;广告业务的

参考例句:

Can you give me any advice on getting into advertising? 你能指点我如何涉足广告业吗?
The advertising campaign is aimed primarily at young people. 这个广告宣传运动主要是针对年轻人的。