美国"热气球门"当事人"准备投案自首"
(单词翻译:双击或拖选)

A US couple accused of faking the disappearance1 of their son in a weather balloon are ready to turn themselves in to police, their lawyer says.
美国一对夫妇的律师称,这对夫妇被指控谎报他们的儿子被探空气球带走,他们准备随时投案自首。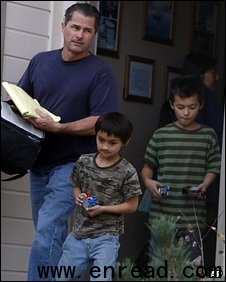 A lawyer said Richard Heene (l) was prepared to hand himself in

David Lane said he expected police in Colorado to bring charges against his client, Richard Heene, by Wednesday.
"These folks(人们) are absolutely willing to turn themselves in, so I don't want to see a 'perp walk' done for media consumption," Mr Lane told NBC TV.
Mr Heene and wife Mayumi are accused of planning the hoax2(骗局,恶作剧) as a publicity3 stunt4(作秀,宣传绝招).
The disappearance of their son, six-year-old Falcon5 Heene, last Thursday became a media drama, but he was later found at home.
His parents appeared on several TV networks with Falcon and his two brothers to talk about the incident and insist it had not been staged.
Mr Lane told the Associated Press news agency that the Heenes should be presumed innocent of wrongdoing unless convicted.
"If [the prosecutors] can prove their case beyond reasonable doubt, that's one thing. If they can't prove their case beyond a reasonable doubt, that's another," he said.
Official details of any charges the Heenes might face have not yet been made public.
However, Sheriff Jim Alderden said on Sunday that charges might include conspiracy7 and contributing to the delinquency(行为不良,错失) of a minor8.
Some of the most serious charges each carry a maximum sentence of six years in prison and a $500,000 (£305,000) fine.
Sheriff Alderden said that at first the parents' acting abilities had made them appear credible9 to the police.
But it had become clear when the son referred to his hiding as part of "a show" during a television interview that they were not telling the truth.
Sheriff Alderden said the authorities were investigating whether anyone else may have been involved, including a media outlet10 that may have been in on the hoax.
"We certainly know that there's a conspiracy between the husband and wife, you've probably seen some of the e-mails and some of the things on the internet suggesting that there may be other conspirators," he told reporters.
Investigators11 have said they want to question Robert Thomas, an associate of Mr Heene's in Denver, who provided the website Gawker.com with e-mail exchanges from several months ago in which he and Mr Heene talk about a possible balloon stunt to promote a proposed reality TV show.
Police have searched the house of Richard and Mayumi Heene for evidence that the family was hoping to use the incident to obtain a lucrative12(获利的,合算的) contract for such a show.
The family has made previous appearances on a US reality show, Wife Swap13.
Other 'conspirators'?
US news networks devoted14 hours of live coverage15 to the drama on Thursday after it was reported the boy might be in a balloon floating high over Colorado.
Denver International Airport was temporarily shut down during the incident.
When the balloon landed in fields there was no trace of him, prompting a major ground search and further fears for his safety.
The sheriff said the police may seek compensation for the time wasted.
He did not give an estimate, though the Associated Press news agency said the cost of two police helicopters sent out on a rescue mission was $14,500 (£8,900).
The boy, his two brothers and his parents gave numerous TV interviews late on Thursday and early Friday. Falcon was twice sick on camera.