Japan Airlines to cut 6,800 jobs 日本航空将裁减6800个工作岗
(单词翻译:双击或拖选)

Japan Airlines (JAL) plans to cut 6,800 jobs, as an airline trade body upped its projected losses for the global industry this year.
由于今年整个航空行业的不景气,日本航空公司计划裁减6800个工作岗位。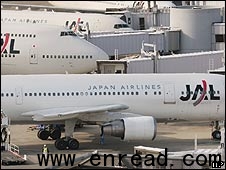 The airline expects a heavy loss for the year

"The personnel reduction cannot wait," said JAL president Haruka Nishimatsu.
Mr Nishimatsu said JAL will have a deal in place with an international carrier by the middle of October.
Media reports have said several US and European airlines are in the running to take a stake in the loss-making carrier.
The airline had already launched a programme of job cuts, plans for fuel-efficiency and a focus on business customers.
Reports this week have suggested that Delta1 Airlines and American Airlines are in talks to invest in JAL to expand into Asia via code-sharing agreements.
On Tuesday, another report said Air France-KLM joined those discussions. Each is discussing an investment of as much as $300m (£181m), the reports said.
Shares in JAL dropped 3.4%, after climbed nearly 8% on Monday.
Iata outlook
Separately, the International Air Transport Association (Iata) increased its forecast for losses across the whole industry to $11bn, from $9bn it predicted(预知,预报) earlier this month.
"The outlook for the industry has deteriorated(恶化)," said Iata director-general Giovanni Bisignani.
Airlines have already lost $6bn in the first half alone, Iata said, with Asian airlines among the hardest hit.
In the Asia-Pacific, airlines will post losses of $3.6bn, up from the previous forecast of $3.3bn.
European carriers are expected to be worst off this year, losing $3.8bn instead of the $1.8bn initially2 forecast.
Iata estimates losses next year of $3.8bn, and doesn't expect airlines to be in profit again until 2011 at the earliest.