Arrests at new Iranian protests 伊朗反抗者遭逮捕
(单词翻译:双击或拖选)

Iranian riot police are reported to have arrested a number of pro-reform protesters in Tehran after demonstrations1 turned violent.
据报道,伊朗防暴警察逮捕了德黑兰一批具有暴力倾向的尚未武装的反抗者。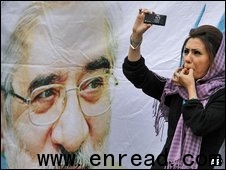 Mousavi supporters have used mobile phones to arrange protests

Police clashed with hundreds of people marching despite a ban on public gatherings2 since the disputed election in June, Reuters news agency said.
The re-election of President Mahmoud Ahmadinejad sparked widespread protests and allegations(断言,主张) of vote-rigging.
Defeated candidate Mir Hossein Mousavi has continued to contest the result.
Mr Mousavi has issued statements opposing the election result, saying detention3(挽留,拘留) of protesters would not end opposition4(反对,敌对).
Power protest
Witnesses said hundreds or even thousands of people took to the streets of Tehran on Tuesday afternoon, although curbs5(抑制,勒马绳) on the international media mean it is difficult to verify reports from Iran independently.
Large numbers of riot police were deployed6 to meet them, and militia7(义勇军,自卫军) men in civilian8 clothes also mingled9 with the crowd, the BBC's Jon Leyne reports.
In a new form of protest, activists11 were urged to turn off lights and domestic appliances at 2055 (1625 GMT).
They planned to switch on five minutes later appliances that consume large amounts of electricity, such as irons, toasters and microwave ovens.
Activist10 leaders hoped the resulting surge(汹涌,澎湃) in demand could cause a power outage and cloak(遮掩,隐匿) Tehran in darkness, allowing some the chance to protest on the streets.
The power protest is the latest in a series of efforts to continue demonstrating without breaking the law or risking arrest.
Following a government clampdown on protests shortly after the disputed election, many in Tehran took to their roofs after dark to shout Allahu Akbar (God is Great) in solidarity12 with the opposition.
Referendum call
The renewed street protests come shortly after Mr Mousavi issued one of his strongest critiques(批评,评论) of Iran's ruling elite13 since the election result was declared.
He said it was an insult to the nation to suggest that opposition members were only protesting because they were told to by foreign powers.
And he insisted that intimidation14(恐吓,威胁) and threats would not silence his supporters.
Since the announcement that Mr Ahmadinejad had won June's presidential election, Mr Mousavi - a reformist former prime minister of Iran - has received backing from several senior figures within the Iranian establishment.
Among them are two former presidents, Hashemi Rafsanjani and Mohammad Khatami.
On Monday Mr Khatami called for a referendum(公民投票,请示书) on the legitimacy15 of the government. Only the Supreme16 Leader, Ayatollah Ali Khamenei, can organise17 a referendum, and he has already declared the election result valid(有效的,正当的).
Mr Khatami, quoted on Iranian websites, said millions of Iranians had lost faith in the electoral process(选举程序).
But Iran's powerful Revolutionary Guard, which answers to the Supreme Leader, has described the election as a turning point. The head of the Guards' political bureau said the election allowed the Guards to take power into their own hands.
Our correspondent says many Iranians will see the Revolutionary Guards' confidence as confirming their own fears that the outcome of the election was just a thinly-veiled military coup18.