MySpace to acquire music service MySpace将要开通音乐服务
(单词翻译:双击或拖选)

MySpace will acquire the popular music discovery service iLike that allows users listen to and share music across social networks.
MySpace将会开放流行音乐探索服务iLike,此服务可使用户收听、分享社交网络里的音乐。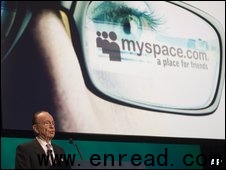 MySpace is owned by Rupert Murdoch's News Corporation

iLike reportedly turned down an offer from rival Facebook, where it is the top music application.
The company has 55 million registered users and has been prominent(杰出的,显著的) on most social networks apart from MySpace.
"The iLike acquisition advances our relentless1(无情的,冷酷的) pursuit of innovation," said MySpace CEO Owen Van Natta.
"Music entertainment is an important piece of people's lives," he told reporters in a conference call.
In a statement, iLike president Hadi Partovi said: "I'm enthusiastic about what this combination will mean for our users, artists, advertisers(广告客户), and our staff.
"We are beginning an exciting new journey together."
The terms of the deal were not disclosed but the blogosphere has reported that iLike was sold "fairly cheaply" at about $20m (£12.4m).
MySpace has been working to overhaul2 its business into one more focused on global music and entertainment.
Mr Van Natta said he wants iLike to branch out from music recommendation into other areas like video, games and film.
It is not known how this acquisition(获得,所获之物) will ultimately affect iLike's relationship with Facebook, which has been home to much of iLike's activity. It has been estimated that 80% of its traffic comes from Facebook.
"Now that it will be owned by Facebook's closest rival, there's a chance that Facebook could restrict or block the app," said CNet's Caroline McCarthy.
Mr Van Natta for his part told reporters: "In the short term users should expect the iLike experience to be unaffected.
"Our expectation is that social networks are going to be thrilled that we're making iLike an even richer experience."
In a statement to the BBC Facebook said: "iLike was one of the first applications to be built on Facebook Platform and has become a success with more than 10 million users.
"We expect that users will continue to discover and share music through the iLike application on Facebook."
The deal was not unexpected and had been heavily trailed by blogs like TechCrunch.
"iLike ultimately chose MySpace based partly on price, and partly on a fit with the buyer," said Mike Arrington founder4 of TechCrunch.com.
"Ongoing5 uncertainty6 over Facebook's intentions to compete with them (iLike) directly as well as regular changes to the rules around Facebook Platform mean they could get cut off at any time," warned Mr Arrington.
点击

收听单词发音
1

relentless
adj.残酷的,不留情的,无怜悯心的

参考例句:

The traffic noise is relentless.交通车辆的噪音一刻也不停止。
Their training has to be relentless.他们的训练必须是无情的。
2

overhaul
v./n.大修,仔细检查

参考例句:

Master Worker Wang is responsible for the overhaul of this grinder.王师傅主修这台磨床。
It is generally appreciated that the rail network needs a complete overhaul.众所周知,铁路系统需要大检修。
3

rivalry
n.竞争,竞赛,对抗

参考例句:

The quarrel originated in rivalry between the two families.这次争吵是两家不和引起的。
He had a lot of rivalry with his brothers and sisters.他和兄弟姐妹间经常较劲。
4

Founder
n.创始者,缔造者

参考例句:

He was extolled as the founder of their Florentine school.他被称颂为佛罗伦萨画派的鼻祖。
According to the old tradition,Romulus was the founder of Rome.按照古老的传说,罗穆卢斯是古罗马的建国者。
5

ongoing
adj.进行中的,前进的

参考例句:

The problem is ongoing.这个问题尚未解决。
The issues raised in the report relate directly to Age Concern's ongoing work in this area.报告中提出的问题与"关心老人"组织在这方面正在做的工作有直接的关系。
6

uncertainty
n.易变,靠不住,不确知,不确定的事物

参考例句:

Her comments will add to the uncertainty of the situation.她的批评将会使局势更加不稳定。
After six weeks of uncertainty,the strain was beginning to take its toll.6个星期的忐忑不安后,压力开始产生影响了。