Europe eyes 'innovative UK space' 欧洲加强"英国太空创新"
(单词翻译:双击或拖选)

The European Space Agency (Esa) has officially opened its new British research centre.
欧洲航天局正式开启英国新研究中心。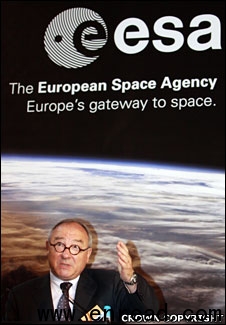 The facility joins a group of hi-tech businesses and academic institutes that operate on the Harwell innovation campus near Oxford1.
The UK has been the only major Esa nation not to host one of the agency's technical or administrative2 centres.
The facility will focus on science and exploration, with particular emphasis aimed at robotics and climate change.
Esa expects the new Harwell unit to become its hub for "industrial intelligence", an outward-looking venture that seeks to pull new ideas into the agency from the private sector3.
"We at Esa are looking at the Harwell site to see how we can work differently on the techno(现代电子乐) front with industry - not just British industry, but European industry in general," Professor David Southwood, Esa's chief scientist, told BBC News.
The UK government hopes to make the facility the key element of a broader effort at Harwell that will be called the International Space Innovation Centre (ISIC) - a place where academia and industry can spark off each other.
"One of the ambitions is to get a better flow of thinking and ideas across existing boundaries," said Dr David Williams, Britain's most senior civil servant with responsibility for space.
This fits with the existing ethos at Harwell. The campus is a joint4 endeavour of the Science and Technology Facilities Council (STFC), the UK Atomic Energy Authority (UKAEA), and the international property group Goodman.
It has attracted a range of hi-tech companies, many already pursuing space-related activities. But its most visible occupant is the giant, publicly funded Diamond synchrotron light(同步加速器辐射) source.
Diamond is the UK's largest investment in science for 30 years and probes the structure of materials on the finest scales using X-rays. It is used both by university scientists and researchers working in the private sector.
点击

收听单词发音
1

Oxford
n.牛津(英国城市)

参考例句:

At present he has become a Professor of Chemistry at Oxford.他现在已是牛津大学的化学教授了。
This is where the road to Oxford joins the road to London.这是去牛津的路与去伦敦的路的汇合处。
2

administrative
adj.行政的,管理的

参考例句:

The administrative burden must be lifted from local government.必须解除地方政府的行政负担。
He regarded all these administrative details as beneath his notice.他认为行政管理上的这些琐事都不值一顾。
3

sector
n.部门,部分;防御地段,防区;扇形

参考例句:

The export sector will aid the economic recovery. 出口产业将促进经济复苏。
The enemy have attacked the British sector.敌人已进攻英国防区。
4

joint
adj.联合的,共同的;n.关节,接合处;v.连接,贴合

参考例句:

I had a bad fall,which put my shoulder out of joint.我重重地摔了一跤,肩膀脫臼了。
We wrote a letter in joint names.我们联名写了封信。