Central banks back new regulation 央行实施新规则加强自身管理
(单词翻译:双击或拖选)

Central bankers have backed new measures to strengthen supervision1 of the global banking2 industry.
各国央行行长决议通过使用新方法加强全球银行业的管理。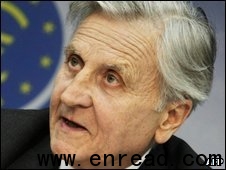 ECB President Jean-Claude Trichet presided over the Basel meeting

A meeting of the Bank for International Settlements (BIS), which consists of the world's central banks, pledged to increase bank's capital requirements.
The plans should "substantially reduce the probability and severity of economic and financial stress," the BIS said.
But the BIS did not set out a timeline for implementation3(实行,履行) of the proposals.
The measures will be outlined in detail by year-end and be introduced in a way "that does not impede4 the recovery of the real economy".
The BIS meeting comes just after the finance ministers from the Group of 20 richest nations meeting in London backed a system that rewards long-term performance rather than short-term risk-taking.
But they could not agree on specific limits on the amounts individual bankers get paid.
Tier one
The BIS, established in 1930 in the aftermath of the Great Depression, consists of 55 member central banks and is based in Basel.
The meeting, on Sunday, was held by members of the Basel Committee on Banking Supervision.
"The agreements reached today among 27 major countries of the world are essential as they set the new standards for banking regulation and supervision at the global level," said Jean-Claude Trichet, the head of the European Central Bank chief who presided the meeting.
In addition to holding on to more capital, the BIS agreed to boost the standards for so-called "tier one" capital requirements - which essentially5 means the quality of the assets that banks have on their books in relation to their deposits.
Basel Committee head Nout Wellink, also the president of the Dutch central bank, also said that banker compensation should be "properly aligned6 with long-term performance and prudent7(谨慎的) risk-taking."
点击

收听单词发音
1

supervision
n.监督,管理

参考例句:

The work was done under my supervision.这项工作是在我的监督之下完成的。
The old man's will was executed under the personal supervision of the lawyer.老人的遗嘱是在律师的亲自监督下执行的。
2

banking
n.银行业,银行学,金融业

参考例句:

John is launching his son on a career in banking.约翰打算让儿子在银行界谋一个新职位。
He possesses an extensive knowledge of banking.他具有广博的银行业务知识。
3

implementation
n.实施,贯彻

参考例句:

Implementation of the program is now well underway.这一项目的实施现在行情看好。
4

impede
v.妨碍,阻碍,阻止

参考例句:

One shouldn't impede other's progress.一个人不应该妨碍他人进步。
The muddy roads impede our journey.我们的旅游被泥泞的道路阻挠了。
5

essentially
adv.本质上,实质上,基本上

参考例句:

Really great men are essentially modest.真正的伟人大都很谦虚。
She is an essentially selfish person.她本质上是个自私自利的人。
6

aligned
adj.对齐的,均衡的

参考例句:

Make sure the shelf is aligned with the top of the cupboard.务必使搁架与橱柜顶端对齐。
7

prudent
adj.谨慎的,有远见的,精打细算的

参考例句:

A prudent traveller never disparages his own country.聪明的旅行者从不贬低自己的国家。
You must school yourself to be modest and prudent.你要学会谦虚谨慎。