三部中国电影入围第64届柏林电影节
(单词翻译:双击或拖选)

After a conspicuous1 and pride-busting absence from the three biggest European film festivals, Chinese movies staged a surprise comeback at the 64th Berlin International Film Festival, known as Berlinale, which runs from Feb 6 to 16.
中国电影缺席欧洲三大电影节之后,在第64届柏林国际电影节上强势回归。今年的柏林电影节将于2月6日至16日举行。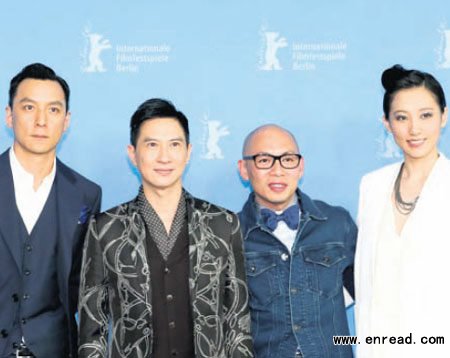 As many as three Chinese films have been selected for the 23-film-strong main competition, including No Man's Land, Ning Hao's dark take on humanity that took four long years to go through the censorship
pipeline
2
. The film, which opened on Dec 3, 2013, in China, was both a critical and commercial hit, raking in 260 million yuan at the box office.
The other two contenders have not been released in their homeland yet, but
Massage
3
is a well-known story adapted from Bi Feiyu's widely
acclaimed
4
novel. Last year saw the birth of both the stage play and the television drama series, and Lou Ye's film treatment could not possibly
embed
5
any
narrative
6
spoilers. However, those who love the story, about a bunch of blind people who make a living from the
massage(按摩)
business, may compare the different
artistic
7
approaches and conclude which one successfully comes out of the shadow of the literary original.
Black Coal, Thin Ice is set against the wintry landscape of Northeast China where the
desolate
8
scenery may reflect the mental state of the main characters. Director Diao Yinan loves film noir, but his style of
portraying
9
murder and
misery
10
is uniquely his own, where the cop, the perpetrator and the hapless bystander are not
suave
11
or sophisticated enough to spew bon mots. "I love black because it gives a sense of discontinuity, and it blends social realism with surrealistic fantasy; I love to
subvert
12
conventions," Diao explains.
More Chinese-language films are competing in the
Panorama
13
section: Dante Lam's supernatural
thriller
14
That
Demon
15
Within, Fruit Chan's adaptation of an online novel The Midnight After, Tsai Ming-liang's new segment of his experimental Walker series titled Journey to the West, The Rice
Bomber
16
by Cho Li, Ice Poison by Midi Z and Zhou Hao's
auspicious
17
debut
18
The Night. This heavily Asian program is designed to promote art-house cinema with a clear
auteur(电影导演) inclination(倾向,爱好)
.
Cao Baoping's Einstein and Einstein, about a teenage girl and her dog, is among the First Generation sidebar. The Movable Feast is picked for the Culinary Cinema program.
Besides those in competition, several Chinese-language films are on sale at the European Film Market, which runs alongside Berlinale. Most notable is The Golden Era, Ann Hui's upcoming biopic on female writer Xiao Hong. The pairing of Hui and Tang Wei is keeping many cinephiles in blissful prayer for something great.