Joker Clooney launches film gala 影星Joker Clooney参加电影发
(单词翻译:双击或拖选)

Stars of Fantastic Mr Fox, including George Clooney and Bill Murray, have walked the red carpet as the movie launched the London Film Festival.
《了不起的狐狸爸爸》主演影星,包括George Clooney和Bill Murray,登上伦敦电影节新片发布会红地毯。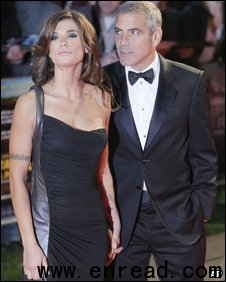 George Clooney on Fantastic Mr Fox

But Meryl Streep, who voices Mrs Fox in the film version of Roald Dahl's book, stayed in the US because she has flu.
Clooney signed autographs(签名) for fans in Leicester Square, accompanied by his Italian girlfriend Elisabetta Canalis.
Earlier he was asked about his plans to settle down, and joked that he intended to "adopt Brad Pitt's kids".
'First book'
Wednesday's gala screening, also attended by actor David Morrissey, supermodel Cindy Crawford, presenter1 Jonathan Ross and film director Gurinder Chada, launched the 53rd London Film Festival.
Fantastic Mr Fox tells the tale of a fox who decides to go back to his old thieving ways with disastrous2 consequences.
Director Wes Anderson, 40, whose previous films include The Royal Tenenbaums and The Life Aquatic3 With Steve Zissou, said: "This was actually the first book I ever personally owned, which was officially my property."
"It introduced me to Roald Dahl's books in general," he continued. "It made a big impression on me."
A modest Anderson said the voices of Clooney and Streep, among others, had been the real driving forces behind the film, which was made using stop-motion animation4.
"One thing I learned during the course of the movie was how much the voices of these actors give to the animators(动画家) to work with.
"You record the voices first and the animators spend all their time animating5 these puppets, but their inspirations come from these moments with these actors."
Clooney, 48, said he had doubts about who would watch the film.
"I'm not sure who's gonna see it - it's sort of made for grown-ups and it's also made for kids and you never know how that plays".
"Wes said, 'don't worry about it, let's just go make movie and have some fun' and I think that's a great way to approach making a film."
Throughout the press conference, Clooney was forced to bat away questions about his personal life.
Asked whether he thought the line of questioning was inspired by his decision to play characters "that need to find responsibility", the star replied: "Thank you for that question and I will now have to consider the other jobs. I was going to play Peter Pan."
He added: "I don't have an answer - obviously."
点击

收听单词发音
1

presenter
n.(电视、广播的)主持人,赠与者

参考例句:

Most people think being a television presenter is exciting.很多人认为当电视节目主持人是一件刺激的事情。
The programme dispensed with its most popular presenter.这个节目最受欢迎的主持人被换掉了。
2

disastrous
adj.灾难性的,造成灾害的;极坏的,很糟的

参考例句:

The heavy rainstorm caused a disastrous flood.暴雨成灾。
Her investment had disastrous consequences.She lost everything she owned.她的投资结果很惨,血本无归。
3

aquatic
adj.水生的,水栖的

参考例句:

Aquatic sports include swimming and rowing.水上运动包括游泳和划船。
We visited an aquatic city in Italy.我们在意大利访问过一个水上城市。
4

animation
n.活泼,兴奋,卡通片/动画片的制作

参考例句:

They are full of animation as they talked about their childhood.当他们谈及童年的往事时都非常兴奋。
The animation of China made a great progress.中国的卡通片制作取得很大发展。
5

animating
v.使有生气( animate的现在分词 );驱动;使栩栩如生地动作;赋予…以生命

参考例句:

Nature has her animating spirit as well as man who is nature's child. 大自然就象它的孩子――人类一样,有活生生的灵魂。 来自辞典例句
They were doubtlessly the animating principle of many hours that superficially seemed vacant. 在表面看来无所事事的许多时刻中,它们无疑是活跃的因素。 来自辞典例句