斯威士兰向南非请求财政援助
(单词翻译:双击或拖选)

Swaziland has asked South Africa for a financial bailout as it risks running out of money, South Africa's top foreign affairs official says.
南非首席外交事务官员称,因资金即将用尽,斯威士兰请求南非对其进行财政援助。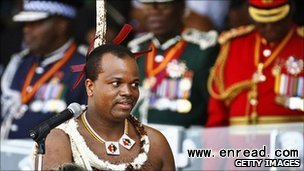 King Mswati has been ruling Swaziland since 1986

The official, Jerry Matjila, told MPs in
Cape
1
Town that Swaziland needed the money to pay its civil servants.
South Africa's opposition2 said the request should be rejected because Swaziland was an "undemocratic state".
Swaziland is one of Africa's poorest countries and is governed by an absolute monarch3.
Mr Matjila, who heads South Africa's International Relations department, said Pretoria was considering the request.
"The question is how much can we help. We want a stable continent. We start with our neighbours," Bloomberg news agency quotes Mr Matjila as saying.
A spokesman for the opposition Democratic Alliance (DA), Kenneth Mubu, told the BBC's Focus on Africa that the government should not "prop5 up" the government of King Mswati III.
"It must first democratise(民主化) , respect human rights and allow free political activity," Mr Mubu said.
He added that South Africa should also demand that King Mswati, who has 13 wives, end his lavish(浪费的,丰富的) lifestyle as a pre-condition for aid.
"The king must reduce his expenditure6 which is a very big proportion of Swaziland's budget," he said.
The Swazi monarchy7 banned political parties nearly 40 years ago.
In April, police fired teargas to break up pro-democracy protests organised by trade unions.
Swaziland is Africa's third-largest sugar producer, but it lost about a third of its revenue last year after it was badly affected8 by the global economic crisis.
Swaziland's government said last week it has asked the World Bank and African Development Bank for "budget support loans", and it was also considering other sources of funding.
According to South Africa's Business Report newspaper, the Swazi government has cut the salaries of politicians by 10% because of the financial crisis.
King Mswati has also cancelled his silver jubilee(25周年纪念) celebrations, due to take place later this year, the paper said.
点击

收听单词发音
1

cape
n.海角,岬;披肩,短披风

参考例句:

I long for a trip to the Cape of Good Hope.我渴望到好望角去旅行。
She was wearing a cape over her dress.她在外套上披着一件披肩。
2

opposition
n.反对,敌对

参考例句:

The party leader is facing opposition in his own backyard.该党领袖在自己的党內遇到了反对。
The police tried to break down the prisoner's opposition.警察设法制住了那个囚犯的反抗。
3

monarch
n.帝王,君主,最高统治者

参考例句:

The monarch's role is purely ceremonial.君主纯粹是个礼仪职位。
I think myself happier now than the greatest monarch upon earth.我觉得这个时候比世界上什么帝王都快乐。
4

lavish
adj.无节制的;浪费的;vt.慷慨地给予,挥霍

参考例句:

He despised people who were lavish with their praises.他看不起那些阿谀奉承的人。
The sets and costumes are lavish.布景和服装极尽奢华。
5

prop
vt.支撑;n.支柱,支撑物;支持者,靠山

参考例句:

A worker put a prop against the wall of the tunnel to keep it from falling.一名工人用东西支撑住隧道壁好使它不会倒塌。
The government does not intend to prop up declining industries.政府无意扶持不景气的企业。
6

expenditure
n.(时间、劳力、金钱等)支出;使用,消耗

参考例句:

The entry of all expenditure is necessary.有必要把一切开支入账。
The monthly expenditure of our family is four hundred dollars altogether.我们一家的开销每月共计四百元。
7

monarchy
n.君主,最高统治者;君主政体,君主国

参考例句:

The monarchy in England plays an important role in British culture.英格兰的君主政体在英国文化中起重要作用。
The power of the monarchy in Britain today is more symbolical than real.今日英国君主的权力多为象徵性的,无甚实际意义。
8

affected
adj.不自然的,假装的

参考例句:

She showed an affected interest in our subject.她假装对我们的课题感到兴趣。
His manners are affected.他的态度不自然。