Iceland plans big whalemeat trade 冰岛计划大量鲸鱼肉出口日本
(单词翻译:双击或拖选)

The company behind Iceland's fin1 whaling industry is planning a huge export of whalemeat to Japan.
冰岛长须鲸加工工业公司计划向日本出口大量鲸鱼肉。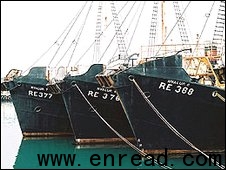 Hvalur's catcher boats pulled in 125 fin whales this year

This summer, Hvalur hf caught 125 fins2 - a huge expansion on previous years.
The company's owner says he will export as much as 1,500 tonnes to Japan. This would substantially increase the amount of whalemeat in the Japanese market.
The export would be legal because these nations are exempt3 from(被免除) the global ban on trading whalemeat, but conservation groups doubt its commercial viability(生存能力,发育能力).
Last year, Hvalur hf exported about 65 tonnes of whalemeat to Japan, a consignment4(委托) that owner Kristjan Loftsson described as a "loss-leader".
But following this year's huge catch, he believes the next one can make money.
"We'll get a good price - we're intending to make a profit, that's for sure," he told BBC News.
Mr Loftsson said he had now suspended fin whaling for this season, having caught 125 from a quota5(配额,限额) of 150.
The remaining 25 can be carried over into next year's hunting season.
This compares with a total of seven caught in the previous three years.
The fin is globally listed as an endangered species, though Icelandic marine6 scientists maintain stocks are big enough locally to sustain a hunt of this size.
EU centre
New quotas7 were controversially set by the government of Geir Haarde just before it left office in January.
The new left-green coalition8 government has promised to review the situation, but has so far chosen not to revoke9(收回) the five-year quotas set by its predecessor10.
The government has formally applied11 to join the EU, and it is entirely12 possible that the EU would demand an end to whaling as a condition of Iceland's entry.
The application still has to be endorsed13(支持,赞同) in a referendum(公民投票,请示书) - and some conservationists believe Mr Loftsson is using whaling as a way to lobby(游说) against EU membership.
"I think he is holding Icelandic politicians hostages to fortune," said Arni Finnsson of the Iceland Nature Conservation Association (INCA).
"He's saying that 'unless I can do this, you would be denying Iceland $40m in export income' - and how can you argue against that if you're a politician?"
The $40m figure was cited by the Fisheries Ministry14 under Mr Haarde's government, said Mr Finnsson, as being the size of the potential annual export market.
Election issue?
Along with other conservation organisations, INCA is adamantly15(坚决) opposed to trading in whalemeat, which they see as something with the potential to increase hunting in various parts of the world.
The trade is generally banned under the Convention on International Trade in Endangered Species (CITES).
But Iceland and Japan - along with a handful of other countries - lodged16 reservations, as the treaty permits, and so are exempt(免除的).
Conservation groups doubt that such a huge export of meat to Japan can be profitable.
A consignment of anything approaching 1,500 tonnes would mark a major expansion of the amount of meat available on the Japanese market each year.
The exact tonnage caught by Japan's whale and dolphin hunts varies each year, but 4,000 tonnes would be a reasonable ballpark figure(近似数).
Conservationists have raised the possibility that Japan's new government will re-address its whaling policies.
But Yukio Hatoyama's pre-election position appears close to that of his predecessor(前辈,前任), holding scientific whaling to be a sovereign right and promoting the resumption of commercial whaling on abundant stocks.
Fresh supplies
Hunting for the much smaller minke whales in Icelandic waters, meanwhile, will probably end next week, with 80 caught so far.
"This is our best year yet - we're very happy about that," said Gunnar Bergmann Jonsson, head of the minke whalers' association.
"We didn't start freezing any meat before around 15th/20th August - we sold it all fresh - now we're just freezing so we have something for restaurants and stores over the winter."
Mr Jonsson said the minke whalers were also interested in exporting if the fin whale consignment proved successful.