你无法改变那些必然发生的事情,它们终会发生。你要做的就是期望它们发生,甚至在发生前就把它们看作已经发生的事实,那么你就不会那么恼怒了。
你不会表现过分。你会很合适的做出回应。你可以和当事人谈谈他们的行为,平心静气的请求他们考虑一下你的感受…你不会过于情绪化以至于把事情搞得更加复杂。
你会微笑,思考,"这是我所期望发生的。杯子早就摔碎了。我可以接受。"
你的内心会很安静。我的朋友们,这是一个多么受欢迎的小惊喜啊。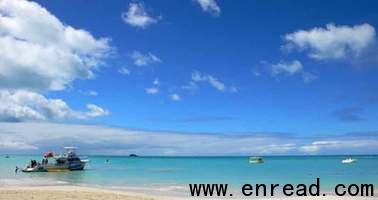 How many times have you gotten upset because someone wasn't doing their job, because your child isn't behaving, because your partner or friend isn't living up to his or her end of the bargain?
How many times have you been irritated1 when someone doesn't do things the way you're used to? Or when you've planned something carefully and things didn't go as you'd hoped?
This kind of anger and irritation2 happens to all of us — it's part of the human experience.
One thing that irritates3 me is when people talk during a movie. Or cut me off in traffic. Or don't wash their dishes after eating. Actually, I have a lot of these little annoyances4 — don't we all?
And it isn't always easy to find peace when you've become upset or irritated.
Let me let you in on a little secret to finding peace of mind: see the glass as already broken.
See, the cause of our stress, anger and irritation is that things don't go the way we like, the way we expect them to. Think of how many times this has been true for you.
And so the solution is simple: expect things to go wrong, expect things to be different than we hoped or planned, expect the unexpected to happen. And accept it.
One quick example: on our recent trip to Japan, I told my kids to expect things to go wrong — they always do on a trip. I told them, "See it as part of the adventure."
And this worked like a charm5. When we inevitably6 took the wrong train on a foreign-language subway system, or when it rained on the day we went to Disney Sea, or when we took three trains and walked 10 blocks only to find the National Children's Castle closed on Mondays … they said, "It's part of the adventure!" And it was all OK — we didn't get too bothered.
So when the nice glass you bought inevitably falls and breaks, someday, you might get upset. But not if you see the glass as already broken, from the day you get it. You know it'll break someday, so from the beginning, see it as already broken. Be a time-traveler, or someone with time-traveling vision, and see the future of this glass, from this moment until it inevitably breaks.
And when it breaks, you won't be upset or sad — because it was already broken, from the day you got it. And you'll realize that every moment you have with it is precious.
Expect your child to mess up — all children do. And don't get so upset when they mess up, when they don't do what they're "supposed" to do … because they're supposed to mess up.
Expect your partner to be less than perfect.
Expect your friend to not show up sometimes.
Expect things to go not according to plan.
Expect people to be rude sometimes.
Expect coworkers not to come through sometimes.
Expect roommates not to wash their dishes or pick up their clothes, sometimes.
Expect the glass to break.
And accept it.
You won't change these inevitable7 facts — they will happen, eventually. And if you expect it to happen — even see it as already happening, before it happens — you won't get so upset.
You won't overreact. You'll respond appropriately, but not overreact. You can talk to the person about their behavior, and ask them kindly8 to consider your feelings when they do this … but you won't get overly emotional and blow things out of proportion.
You'll smile, and think, "I expected that to happen. The glass was already broken. And I accept that."
You'll have peace of mind. And that, my friends, is a welcome surprise.
点击

收听单词发音
1

irritated
a.恼怒的

参考例句:

His little affectations irritated her. 他的装腔作势令她不快。
Her genteel accent irritated me. 她那矫揉造作的腔调使我感到难受。
2

irritation
n.激怒,恼怒,生气

参考例句:

He could not hide his irritation that he had not been invited.他无法掩饰因未被邀请而生的气恼。
Barbicane said nothing,but his silence covered serious irritation.巴比康什么也不说,但是他的沉默里潜伏着阴郁的怒火。
3

irritates
使发怒( irritate的第三人称单数 ); 使急躁; 使感到不适; 使疼痛

参考例句:

The way she puts on that accent really irritates me. 她故意操那种口音的样子实在令我恼火。
This excess fungal yeast irritates the scalp, causing overproduction of skin cells. 这过量的真菌酵母刺激皮肤产生了过多的皮肤细胞。
4

annoyances
n.恼怒( annoyance的名词复数 );烦恼;打扰;使人烦恼的事

参考例句:

At dinner that evening two annoyances kept General Zaroff from perfect enjoyment one. 当天晚上吃饭时,有两件不称心的事令沙洛夫吃得不很香。 来自辞典例句
Actually, I have a lot of these little annoyances-don't we all? 事实上我有很多类似的小烦恼,我们不都有这种小烦恼吗? 来自互联网
5

charm
vt.使着迷,使陶醉;n.招人喜欢之处,魅力

参考例句:

With all imperfections the short play has a real charm.尽管有不少缺欠,这出小戏仍颇具魅力。
He could resist her charm no longer.他再也抗拒不住她的魅力。
6

inevitably
adv.不可避免地;必然发生地

参考例句:

In the way you go on,you are inevitably coming apart.照你们这样下去,毫无疑问是会散伙的。
Technological changes will inevitably lead to unemployment.技术变革必然会导致失业。
7

inevitable
adj.不可避免的,必然发生的

参考例句:

Mary was wearing her inevitable large hat.玛丽戴着她总是戴的那顶大帽子。
The defeat had inevitable consequences for British policy.战败对英国政策不可避免地产生了影响。
8

kindly
adj.和蔼的,温和的,爽快的;adv.温和地,亲切地

参考例句:

Her neighbours spoke of her as kindly and hospitable.她的邻居都说她和蔼可亲、热情好客。
A shadow passed over the kindly face of the old woman.一道阴影掠过老太太慈祥的面孔。